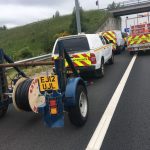 PB Networks has recently completed a cable installation project as part of a motorway maintenance project, on the A1 leading from Ripon to Leeming.
The project, which was managed by lead contractor, Oldham based VPS Security, involved resurfacing works and the installation of monitoring cameras to enable drivers to stay safe during any unforseeable vehicle breakdowns.
PB Networks successfully and safely laid cables as part of the project to facilitate the installation of monitoring cameras and worked alongside VPS Security to ensure the job was completed in a professional and timely manner.
Highways England Accreditation for PB Networks
PB Networks teams were also fully inducted with Highways England and completed all safety training and certification.
Mark Wilson, VPS Security commented: "PB Networks were a pleasure to work with on this project and they done fantastic work for us. We would highly recommend them for future cable laying and other projects across the UK."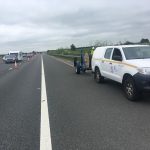 Paul Beirne, Director of PB Networks added: "We were delighted to be involved in this project and furthermore, achieving full accreditation with Highways England will enable us to expand our offering and client base.
We look forward to working with VPS Security on similar cable installation projects in the future.
For more on PB Networks services, visit our Services page here.